Medical documentation is an essential part of being a physical therapist. With proper medical documentation, your staff will be updated on the patient's medical care process. From their symptoms to their diagnoses, from their treatments to their prescriptions, medical documentation can keep a record of all these.
However, medical documentation can sometimes take too much of a physical therapist's time. In fact, studies have shown that medical personnel spend around 49.2% of their time on medical documentation instead of actually interacting with patients. Unfortunately, this leads to burnout for the physical therapist. As a result, your medical practice's staff, and even your patients, suffer.
Because poor medical documentation can lead to unwelcome consequences, it pays to learn how to be more efficient with medical documentation. Thankfully, this article will show you plenty of strategies to do just that.
Four Strategies for Efficient Medical Documentation
Educate your team
One strategy you can apply to improve your clinic's medical documentation efforts is educating your team. Medical documentation is an important part of healthcare. As such, it's essential that your staff is on the same page on the process. Whether your staff members are new to the roster or long-time team members, returning to the fundamentals can help make your team more efficient when recording patient encounters.
In addition, giving your team a refresher course on the process can help them avoid making any further errors. This allows them to streamline their clinical documentation duties and be more efficient. If there are any new steps to implement or you're planning to start using a new EMR software system, a training session is also the perfect time to teach it to them.
Finally, while training your team, you should also assess how your team communicates with one another. That way, communication flows smoothly, and any information needed to update the patient's health records can quickly be relayed from one physical therapist to another.
Reduce shorthand and review records before a new session
If you're wondering how to be more efficient with medical documentation, consider reducing shorthand. Remember, not everyone can understand the shorthand writing style. Therefore, avoid using it as much as possible when recording patient sessions. By doing so, the physical therapist who handles the patient after you will have an easier time understanding what you recorded during the previous session.
You can also make the medical transcription process more efficient by having the next physical therapist review a patient's records before the next session. By having your staff do this, they're immediately in the know about the patient's situation. This saves time and helps them avoid redundancies when documenting the new session with the patient.
Be accurate when collecting patient information
Clinical documentation is an essential part of every patient encounter. As such, physical therapists must be as accurate as possible when collecting patient information.
One way to do this is by being cautious when copying prior visit notes. While this can help you with recurring patients, you should also read any updated notes on their records. That way, you can avoid inaccurate and redundant information that can render the medical documentation process of the new session inefficient.
There's another method you can consider when looking for ways on how to be more efficient with medical documentation. This method involves teaching physical therapists to document any direct communication patients have with them.
If the patient contacts their physical therapist via phone or email, it's highly recommended that PTs document the interaction. In doing so, your staff will be updated on the patient's condition. This will allow the documentation of the next session to run smoothly and efficiently.
Finally, when collecting patient information, be sure to use the SOAP method. SOAP stands for Subjective, Objective, Assessment, and Plan. It is an organized and systematic method of compiling a patient's symptoms, pain levels, medical history, physical examination findings, and more in real time.
With the SOAP method, the task of taking down clinical notes and documents becomes more efficient. By training your staff to employ this method, you can ensure that the medical record is easy to comprehend.
Take advantage of technology
One final method you can apply to improve physician documentation efficiency is taking advantage of the available technology. Medical documentation services are all the rage nowadays. Thanks to a team of dedicated helpers online or advanced AI, these services can assist physical therapists in creating accurate documentation of every patient session. This renders the medical documentation process more efficient.
If you plan to use EHR systems for patient documentation, be sure to keep the software updated. Remember, outdated electronic medical record software and technologies can cause delays and mistakes, resulting in inefficient patient documentation. With updated EHR software, you can avoid this headache by streamlining the medical transcription process, remaining efficient as a result.
Improve your clinic's medical documentation efficiency with ScribePT. ScribePT is one of the country's best medical documentation services. With its team of dedicated scribes, you can rest assured that all documentation of your patient encounters will be accurate. It also boasts a feature that allows you to automatically transfer your documents to your EMR with just one click.
Make the task of physician documentation less of a hassle by starting your 30-day free trial with ScribePT!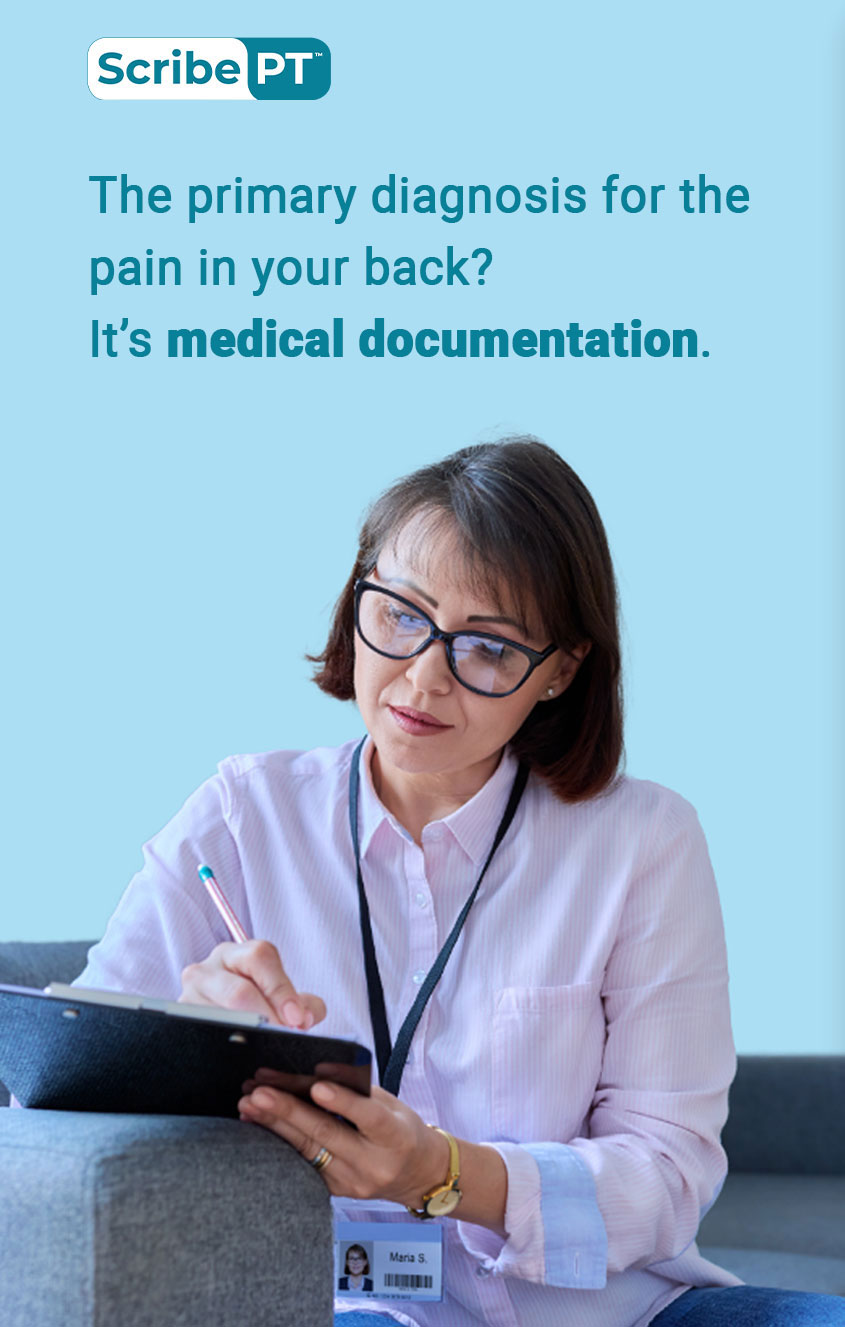 Start with 30-Days Free!